Break up the monotony of your neighborhood dog walk with one of our 15 favorite places to walk your pup in the D.C. area! These picks, many of which are National Park Service sites, offer breathtaking scenery, open spaces, wildlife, history and more.
Different dogs like different things–and that's true for walks, too! In our experience, dogs tend to fall into one of two categories when it comes to their walk preferences: explorer or exerciser. Below, we've indicated which type of walk (Exploration or Exercise) each place is best for.
Ready to hit the ground running? Before you and your four-legged friend embark on a new adventure, be sure to:
Check the rules of the trail or park
Bring a leash no longer than six feet in length to avoid incidents
Pack a travel bowl and water so you and your pup stay hydrated
Be courteous, and remember to bring poop bags
Looking for ways to enhance your dog's walk? Here are a few tactics we use during our Enrichment Walks that can help you create an enriching walk experience for your dog:
Is your dog an explorer? Use a long leash to allow your dog to lead and explore.
If your dog loves to explore and discover, try incorporating games like "find it" or food puzzles into your walk to give them additional opportunity to stimulate their mind.
Do you have an energetic dog who loves exercise? Incorporate games like fetch and tug into your walk routine to further encourage exercise.
Here we go!
Cleveland Park, Woodley Park, Mount Pleasant
Perfect For: Exercise Walks
Enjoy abundant and engaging scenery along the brook as you stroll on Klingle Valley Trail. This paved, multiuse trail is less than a mile and is best for running, walking and biking. Its design makes this a friendly trail for all abilities of visitors and their dogs. The paved trail is perfect for fast-paced exercise walks.

The rest areas located at key points are helpful for more physically-restricted breeds, such as bulldogs. Various trailheads allow you to tailor your walk to you and your companion's needs.

Southwest Washington D.C.
Perfect For: Exploration Walks
The wide-open space at Hains Point is ideal for all activity levels. Stroll down the 4.1-mile trail and view a variety of cherry blossoms along the river. Check out some unique historic sites, including Fort Lesley J. McNair and the George Mason Memorial.

The trail's prime location at the southern tip of East Potomac Park also offers an unmatched view of the area from the banks of the Potomac River.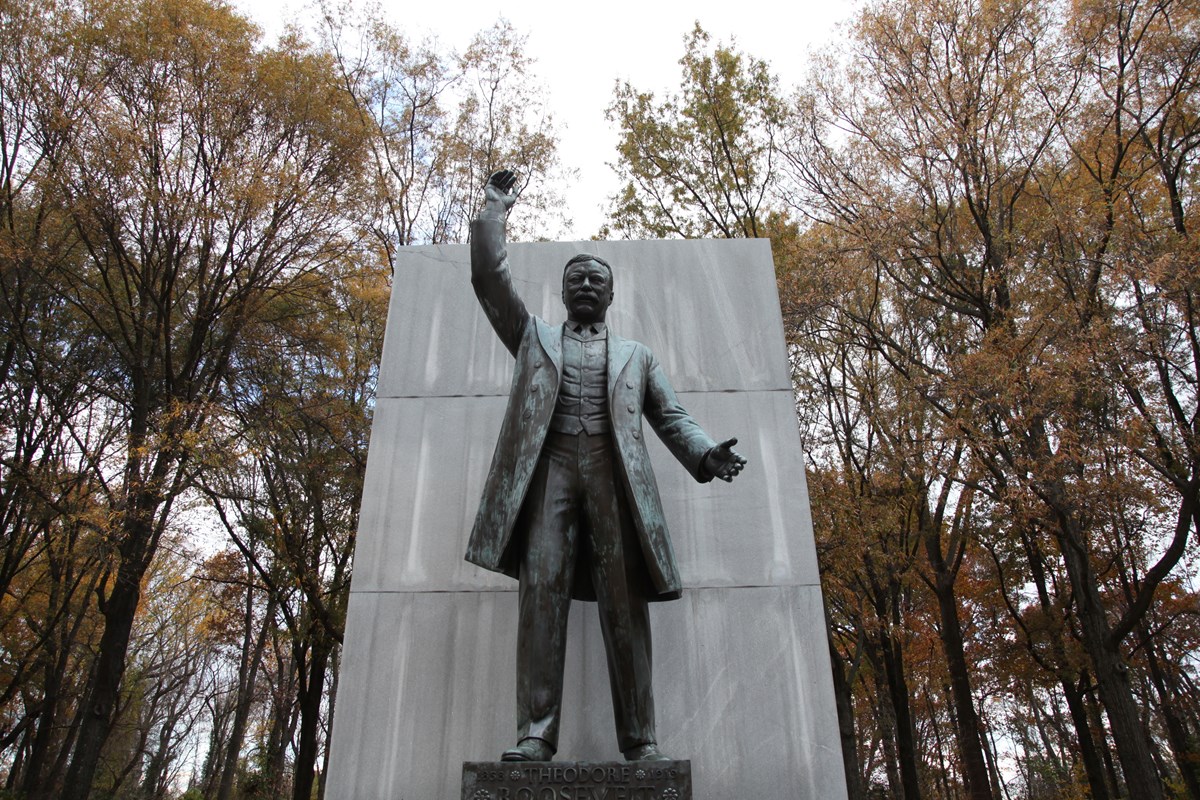 Island on the Potomac River in D.C.
Perfect For: Exploration Walks
Designed by architects to emulate the natural state of the island, Theodore Roosevelt Island offers miles of trails that honor our former conservationist president.
Visitors can choose from three different trails. Swamp Trail is a 1.5-mile loop around the island perimeter. The trail, which is part pea gravel and part boardwalk, is ideal for active breeds. The .33-mile pea gravel Woods Trail leads to Roosevelt Memorial Plaza. Finally, Upland Trail covers the full length of the island from east to west in .75 miles. Upland circles the old Mason Mansion site, previous owners of the island.

Cleveland Park
Perfect For: Exploration Walks

This historic "suburban oasis" is a private nonprofit open to the public to explore and enjoy. Known as the village green of Cleveland Park, the conservancy boasts three acres of pristine lawns with roots dating back to the 18th century. Added bonus—the conservancy offers several off-leash periods throughout the day that can be found here.

Owners must register their dogs prior to admittance. Dog owners pay $100 annually for registration and membership; each dog costs an additional $75. This is a great investment for local residents, but the cost might prove cumbersome for occasional visitors.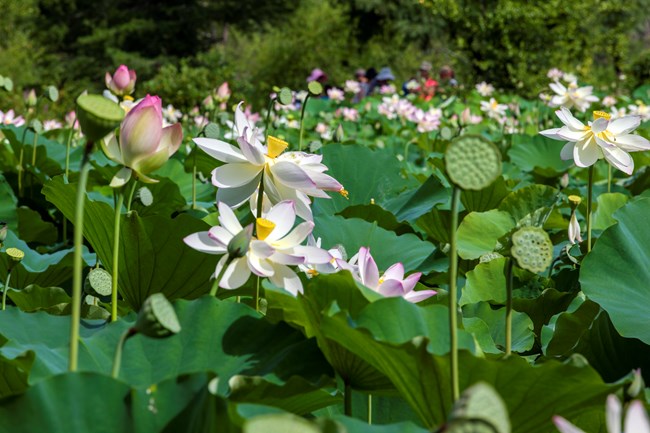 Kenilworth, Northeast D.C.
Perfect For: Exploration Walks
Breathtaking scenery offers visitors activities that range from birdwatching to photography to picnics. Both trails are less than a mile long—one on boardwalk, one on a dirt path—that boast beautiful plant life and an impressive roster of birds.
Don't miss the two-day Lotus and Water Lily Festival in the summer—a multicultural experience with loads of activities to keep you and your pup busy!
Shaw, Washington D.C.
Perfect For: Exploration Walks
As their website says, meet, sniff, run and play at Shaw Dog Park! Its 15,000 square feet is divided into one large and one small fenced area.

The smaller section is dedicated to pups that require special care, such as elderly dogs, breeds weighing under 25 pounds and any dog with a physical restriction. The larger section is for all other visitors. The park offers plenty of space for activities!

Langdon, Northeast D.C.
Perfect For: Exploration Walks
At just under 12,000 square feet of fenced property, Langdon is D.C.'s largest dedicated dog park. This is an ideal location for dogs to socialize. The park hosts a variety of community events throughout the year, creating plenty of opportunities to meet new friends.

Arlington, VA
Perfect For: Exercise Walks & Exploration Walks
This park's quarter-mile trail travels through urban and natural environments, offering great exercise for you and your dog. A dedicated space provides a safe haven for smaller breeds. The trail path that goes across the park is the perfect space for an Exercise Walk, and the park areas provide the perfect environment for an Exploration Walk. While this park may be further for D.C. residents, it's worth the visit.
Shaw, Washington D.C.
Perfect For: Exploration Walks
If you live in the city and crave a safe place for your dog to run free, visit Bundy Dog Park. Organized by neighborhood volunteers, Bundy is the product of meaningful community involvement. The fenced-in location allows dogs to socialize and play off leash. Keep an eye on the park's website for events and fundraisers.

Kenilworth, Northeast D.C.
Perfect For: Exploration Walks
With 446 acres of exceptional landscape and ornamental plants, this is a must-see spot. Just 10 minutes from the U.S. capitol, the arboretum was established in 1927 by an act of Congress. Japanese maples, ornamental grasses, daffodils and a stunning display of azaleas create unmatched scenery through miles of various pathways. Check out the arboretum's event listings for moonlit hikes and educational programs.

Hill East, DC
Perfect For: Exercise Walks & Exploration Walks
The historic Congressional Cemetery includes burial sites of influential citizens who impacted our city and nation. Its unique approach to dog walking benefits owners and the cemetery itself. To enter the park with your pooch, owners must sign up with the organization Cemetery Dogs. Dog owners can safely let their dogs run free in 35 acres of fenced in property (perfect for Exploration Walks), and the path throughout the cemetery also offers the perfect spot for fast-paced walking or jogging (perfect for Exercise Walks). Funding from Cemetery Dogs also helps preserve the cemetery grounds. Several dog-friendly events are held each year. The use of balls, Frisbees, or dog toys of any kind is not permitted in the Cemetery

Hill East, DC
Perfect For: Exercise Walks
Have great stamina and need to burn off some of Fido's energy? Check out the 20-mile paved Riverwalk Trail along the Anacostia River that features impressive modern architecture. A 12-mile stretch of the trail is heavily used by walkers, runners, cyclists and dog walkers. With a minimum 10-foot width, you'll never feel crowded on the trail.

Capitol Hill, D.C.
Perfect For: Exploration Walks & Exercise Walks
The largest of the Capitol Hill Parks, Lincoln Park is ideal for residents of Hill East or Capitol Hill. Allow your dog to indulge in new sights and smells while you soak in the park's rich history. Lincoln Park includes a statue dedicated to its namesake, as well as a memorial to Mary McLeod Bethune. Bethune is best known for her activism of civil rights causes and improving education. There is pavement perfect for walking/running and plenty of room to explore.

Capitol Hill, DC
Perfect For: Exercise Walks & Exploration Walks
With nearly two miles of open space between the Lincoln Memorial and the U.S. Capitol, the National Mall is a popular choice for many dog-walkers. A plethora of iconic monuments and art installations provide exciting routes to keep you and your dog engaged as you explore. The location's popularity may even open doors to new furry playmates!

Potomac, MD
Perfect For: Exploration Walks
Three rugged trails—two of which are open to dogs—make this a great escape for active breeds and their humans. As the name implies, these routes just south of Great Falls Visitors Center are rocky. Section B is a more challenging 1.4-mile trek, while Section C offers a slightly easier terrain over 1.6 miles. Wear proper shoes to avoid accidents, and check park conditions before arriving.
Dog-friendly D.C. and the surrounding areas offer great options to adventure with man's best friend. At the end of the day, you know your dog's abilities the best, whether that's a 10-mile jog or a scenic stroll through the gardens.
If you need help walking your dog, consider signing up for our Enrichment Walk services. Our Enrichment Walks focus on fulfilling the whole dog, body and mind, using force-free, fear-free, science-based practices. Happy trails!
Newsletter Signup
Get fear-free, force-free enrichment and training tips, adorable dog stories, the latest canine science, and more—all straight to your inbox!
"*" indicates required fields